Candy cart hire is perfect for anybody with a sweet tooth, full of all the sweets you love. A perfect addition to most events, a great treat to keep the big kids, and little kids entertained at your event!
You can modify the picture booth props you use for the activity and personalize the printed photographs to provide details on the event and its date. The pictures are also customized in Sweet cart hire Glasgow.
Many people use photo strips for special occasions, giving everyone a pleasant memory at the party. One of the best things about engaging in a party is that you will meet old friends and talk about the "good old days." Nostalgia is a feeling for the past, usually with pleasant personal memories during a time or location.
We're all nostalgia at Candy cart hire Glasgow. It's a different era in our traditional cart. To create this authentic old look, we use regular scoops and tongs. Our old stripy candy bags are also a fun representation of past times.
We associate many sweets and treats with our childhood. We all remember the days when we went to the shops to buy treats like gum, black jacks, fruit salads, candy, and a bottle of fizzy chocolate, milk teeth, excellent bonbons, and cola dummies. Why not add Candy cart hire Glasgow to your party or event if you want to evoke your guests' nostalgia?
Photo booths are not only a way to capture a moment; they also provide guests with favor or take-away, an engaging way to communicate with other guests, and serves as an excellent icebreaker. Suitable for two families and plenty of friends who meet at weddings, birthdays, festivals, and much more. So Event management companies Edinburgh will help, if you want a wedding photo booth, a birthday photo booth, or an officer photo booth.
Our Candy cart is the perfect addition when hiring most of our services.
Want to know more About Mr Q' Magic Booth? Fill in the form below and a member of our team will be in touch to help!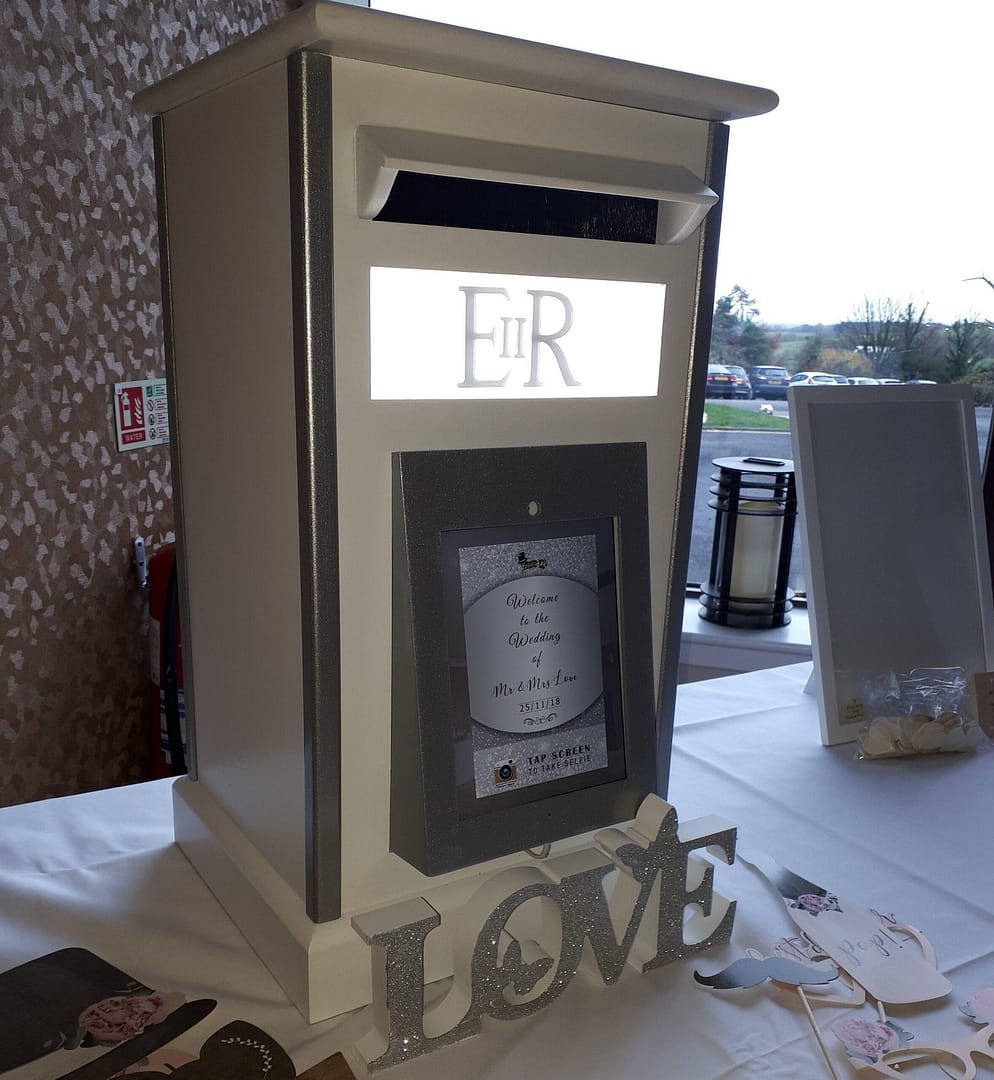 The Package Includes The Following:
Your name and date on the box screen and the picture template.
Guests can leave a photo, 30-sec video message or a funny Boomerang.
No photo booth attendant needed.
Securely locked with a code.
Guests can share photos instantly on social media, or email or text to themselves
Integrated with LED lights to attract guests.
Lightweight and easy to carry.
We set it up and courier it to anywhere in the UK and you just have to plug in and start using.
Prints are available after the event at an extra cost (Please let us know)
It can be used at all times not just when posting cards, capturing all the awesome and fun moments of your wedding. The box captures all images, Boomerangs, and GIFs and we create your online gallery after the event. Our Selfie Post Box is available for full Weekend hire all over the UK including delivery, set up, and collection. Get in Touch with us for a Quote.
Need more information or want to ask us some questions?